Δ Light Readings : 005 - Standing Right Here
and other homebound journeys.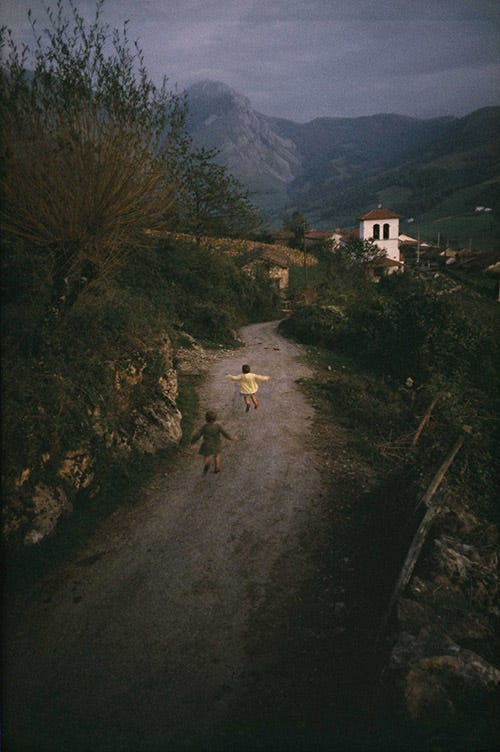 This photo, by William Albert Allard, is framed in my office and remains one of the most magical scenes I've ever seen captured on film. The little girl seems to be levitating as she dashes home for dinner. The warmth of the sunset light is fading to blue and the distant mountains are seen through a dusky haze. It feels like the story of a childhood frozen in a single moment.
Feeling a little disconnected, I used the title of the image, Béhorléguy, Basque Country, France, 1967 to start poking around on Google Maps. Fifteen minutes later, I'm staring at the scene: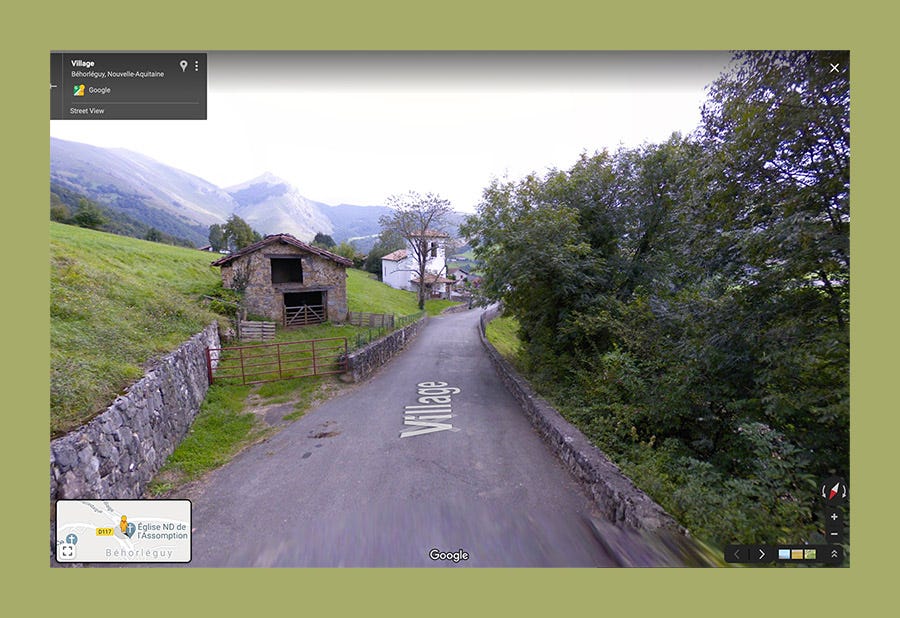 The road is paved now and the rocky hill is shored up with a neat stone wall. But the white church remains, as do the slopes of the distant mountains.
It's a serene journey to wander around this quiet countryside via Google Maps in the south of France, 53 years after Allard made his photo. Also, a little sad to think it's one of the many places that is literally inaccessible to us right now.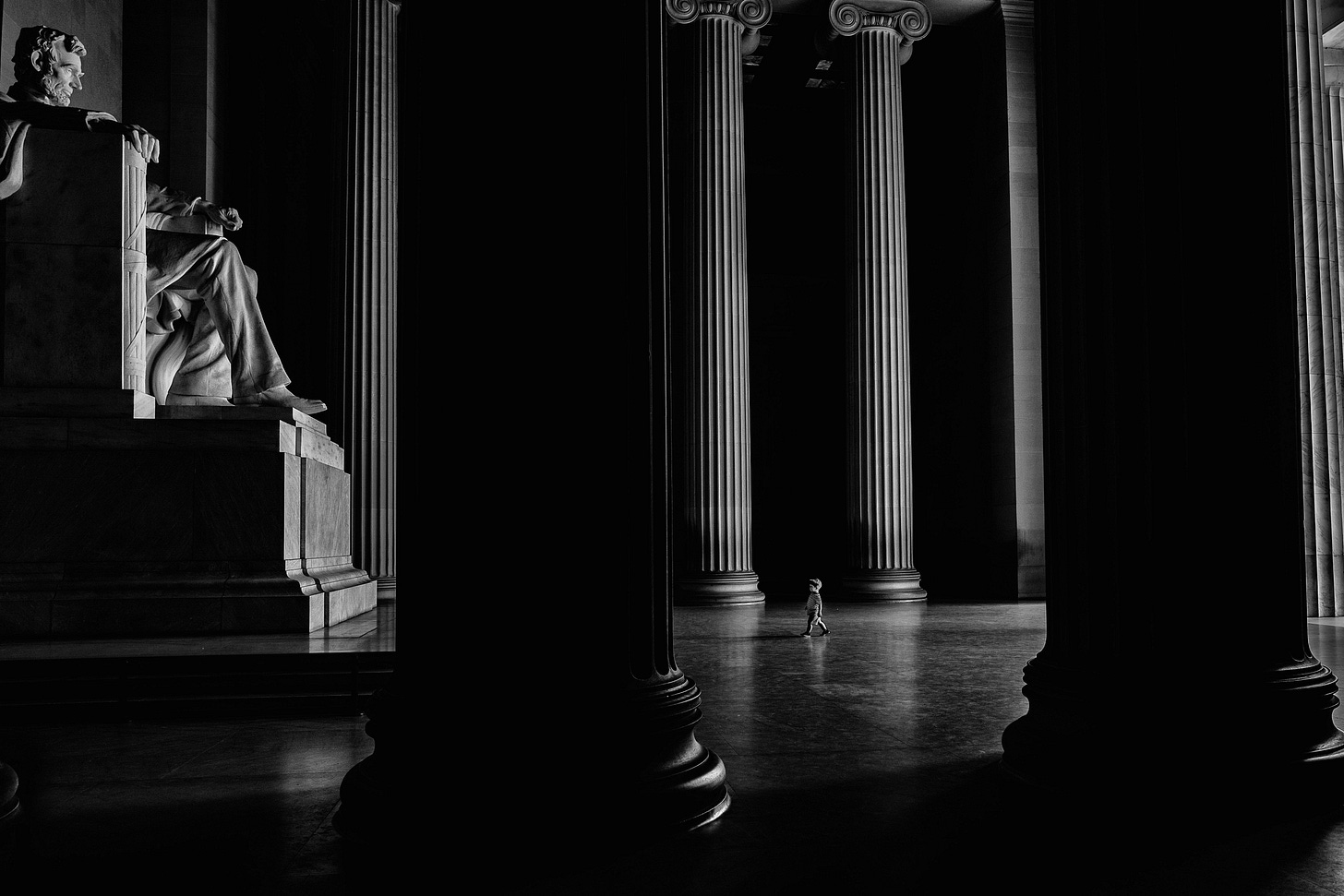 This past Sunday, I went out to make photographs around DC. It would turn out to be just one day before Mayor Bower would issue her stay-at-home order that went into effect today.
I found the city… not that different?
Sure, the fading cherry blossoms were guarded by a phalanx of police and National Guard, but kids still ran, undeterred, across the broad fields of grass near the Washington Monument.
The Reflecting Pool was drained, allowing for a rare biking/scootering/skateboarding opportunity for those willing to forego social distancing to glide across the pool's 1/3 mile of smooth concrete.
Getting to the Lincoln Memorial involved playing a real-life Frogger game as I juked and dodged my way through the crowds and up the steps. Inside, it felt immediately cooler, with the sounds from outside dissolving into soft, white noise. The light changes, too, made possible by a ceiling composed of marble tiles soaked in paraffin wax, cut thinly enough to let a warm, painterly light in.
I spent fifteen minutes inside, watching small groups come and go. A global pandemic doesn't change the rhythm of these visits - usually a quick selfie, a pause to look up at Lincoln's stoic face and off to the next place.
When a small boy walked briskly ahead of his family towards Lincoln, I made several photos in quick succession including the one above. In response to many kind notes and inquiries I received after sharing this image, I've launched a flash print sale - 48 hours flat. Half of the proceeds will go to the vital work that Women Photograph is doing to help female and non-binary freelance photographers during these destabilizing times.
If you're interested, the print sale will be live until this evening at 8pm : http://www.stephenvoss.com/women-photograph-print-fundraiser
Currently
I had a wonderful chat last week with John Loomis for his Eyeball podcast. We talked about the life of the mid-career photographer (with kids), not asking for permission, photo criticism and more. It was time well-spent and I hope you'll give it a listen if you have some time - https://www.eyeball.works/eyeball/episode-16-stephen-voss
I re-watched Minka: A Farmhouse in Japan, a fifteen minute documentary about an ancient home in Japan, purchased by John Roderick, an American journalist in the 1960s. The film is searingly beautiful with steady, lingering images of the home blended with old photos that capture the spirit of the place. The pacing is exquisite, the storytelling precise and assured. A life story distilled to its most vital parts. Highly recommended.
—
If you signed up for this and don't know who I am, my name's Stephen Voss and I'm a photographer living in Washington, DC. I photograph politicians for magazines, and, occasionally, bonsai trees. You can see my work on my website.
I started this newsletter because I missed creating things and sharing them with the world. I missed making new things that didn't come from assignments.
If you've made it this far and enjoyed the newsletter, I would greatly appreciate you sharing it by using the link below or posting someplace social.
Thanks for reading and stay safe.